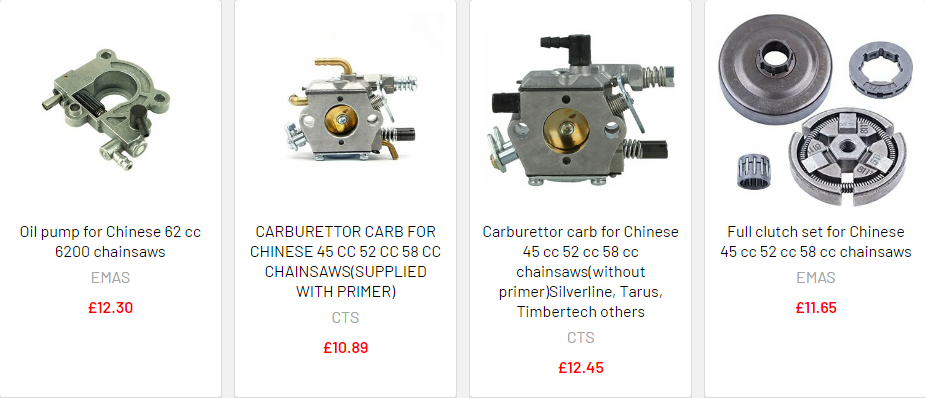 For the proper maintenance of a lawn, it requires a certain set of professional tools to make sure that your property will look well maintained. Of many tools, you will need performance-centric Chinese brush cutters strimmer parts available at Chainsaw Parts Online store in a varied range to meet your lawn maintenance needs. Chainsaw Parts Online brush cutters and trimmers are both ideal choices for cutting and trimming your lawn grasses in a pristine manner.
In this post, we will let you know how brush cutters and strimmers are considered the must-have lawn maintenance tools, particularly when it comes to detail trimming the edges of the lawn.
Flexible tool– The use of Chinese brush cutters will enable you to reach places that are generally inaccessible with other lawn maintenance tools. They are sturdier equipment that can be used for both cuttings and giving a professional style finishing to grasses. They are designed for whacking grass and weeds where other equipment can't easily reach.
Powerful tool- To look after a compact area of thick vegetation, rough grass, and weeds, the tools like brush cutters and chainsaw spare parts in UK of Chainsaw Parts Online store work ideally as they are powerful tools that can work under extreme conditions & positions. Chinese brush cutters are designed to mow grasses as well as touch up lawn edges so one can use them for multiple purposes.
Convenient tool- Whether you use petrol engine brushcutters or battery-powered brush cutters, you may find both tools very convenient to use. The use of these tools won't restrict your movement in the absence of power sockets. One can use it wherever he wants to with no restriction.
Chinese brush cutters and strimmer parts are an ideal companion to your lawn mowing session. To make your lawn always stay in tip-top condition, it is a must to get the gardening tools like chainsaws, brush cutters, and strimmer from the Chainsaw Parts Online store and make your yard look perfect and beautiful as always.
Recent Posts
Piston and its kit are considered the heart of chainsaw & brushcutter engines. It is the pisto …

When it comes to gardening, the chainsaw is the most preferred tool for savvy gardeners. It is the …

For the proper maintenance of a lawn, it requires a certain set of professional tools to make sure …